The Robin Americana Shed takes the cake for their most popular style. It has an elegant design jazzed up with New England-style trim. And guess what? It's not just a pretty face – its wallet-friendly, this shed hits the sweet spot, offering a perfect mix of looks and practicality. What's more, Robin Buildings pampers you with premium perks like beautiful windows and doors, outstanding electrical packages, and snazzy roofing options, all within your reach. Give us a call today and lets work together to get your backyard looking better than your dreams. 
Talk with a professional about your building!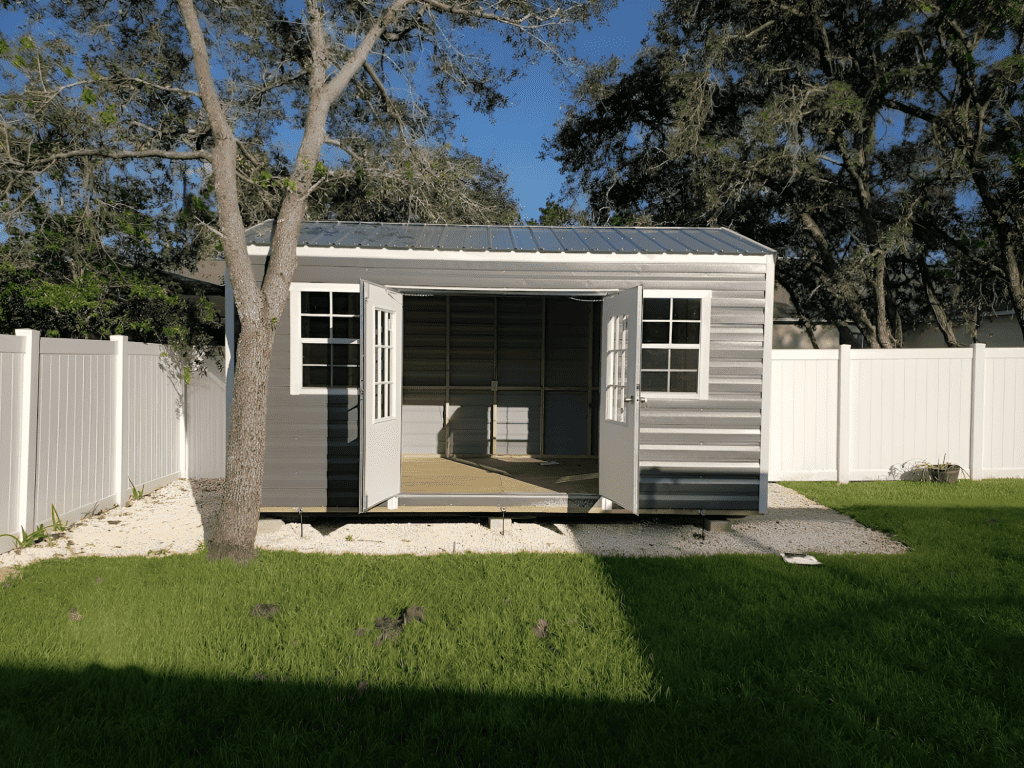 Standard Roofing Options:
29 Ga. Master Rib Galvalume

29 Ga. Master Rib - Painted

Architectural Shingles
GAMBREL BARN ROOFING
Available in many color options at no additional fee. 
SHINGLE ROOFING
Architectural Shingles are available in black and brown standard, and custom color options are available.  Speak to an associate for details. 
Siding Options 
29 ga. R-Lap Steel

SMARTSIDETM SmartPanel
SMARTSIDETM SmartLap 
Structural Framing Options:
#1 Grade Southern Yellow Pine Wood Framing
Steel Framing (CAD Designed)
Size Options:
8' WIDE

10' WIDE

12' WIDE

14' WIDE

8x8
10x8
12x8
14x20
8x10
10x10
12x10
14x24
8x12
10x12
12x12
14x30
8x14
10x14
12x14
14x32
8x16
10x16
12x16
14x36
8x20
10x20
12x20
14x40
 
10x24
12x24
 
 
10x30
12x30
 
 
 
12x32
 
 
 
12x36
 
 
 
12x40
 
 
 
12x44
 
 
 
12x50
 
 
 
 
**NOTE:  Steel Frame buildings are available in custom sizes.  Need an exact size?  Contact a Robin Sheds associate for more info.
WEATHER TITE
INSULATED WITH OR WITHOUT NINE LIGHT WINDOW
GARAGE COIL
INSWING RESIDENTIAL
FIBERGLASS WITH OR WITHOUT TRANSOM WINDOW
WHITE GRID
CRANK OUT AWNING
INSULATED VINYL HORIZONTAL SLIDE
Floor Options:
Standard - 3/4" Pressure Treated Plywood

3/4" Diamond Premium Tongue and Groove Floor Panels

Floorless available for installation on customer foundation

Greenhouses - Standard- Floorless, optional 2x6 pressure-treated floor available

Screen houses - Standard- 2x6 Pressure Treated Floor
Robin Buildings offers one of the best warranties in the storage shed manufacturing industry. Warranty specifics include:
1-Year Workmanship Warranty

20-Year Warranty on all Pressure Treated products

20 Year Warranty on all Steel Siding and Roofing products

30 Year Warranty on any Aluminum parts or siding
Robin Buildings are covered by the manufacturer's warranty as well as vendor warranties: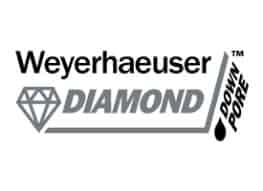 R*LAP BUILDINGS
Siding: Standard in White, Light Stone, Tan, Ash Gray, Clay, and Charcoal; or, upgrade to any color shown.
Trim: Standard in any color shown.
Roofing: Standard in Galvalume silver color, see examples on our website
SMARTSIDETM BUILDINGS
SmartPanel and SmartLap Siding and Trim standard in any color shown.  *Custom colors available for additional fee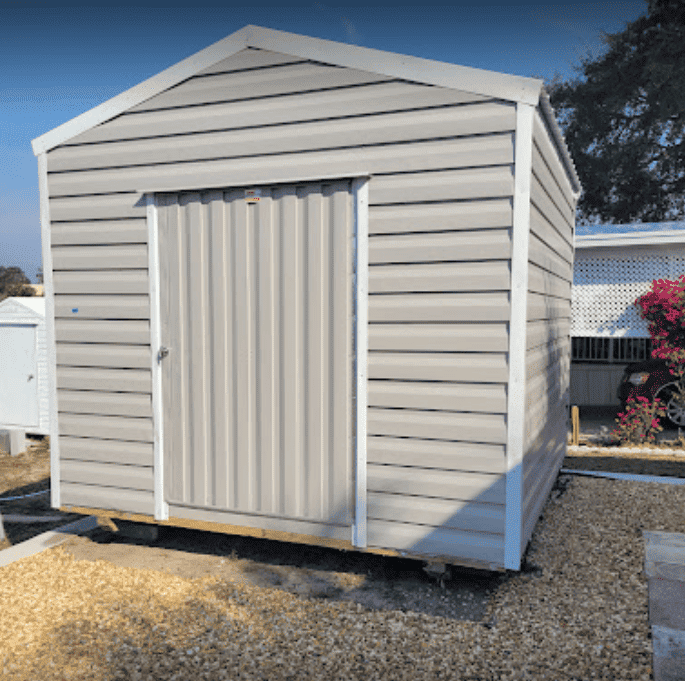 Chris McArthur
@ChrisMCA
I would highly recommend purchasing a shed from ProBuilt Structures. The shed was built as ordered and the delivery and set up was very professionally completed. Kudos to the 2 young men who delivered and set up my shed! Very professional and knowledgeable!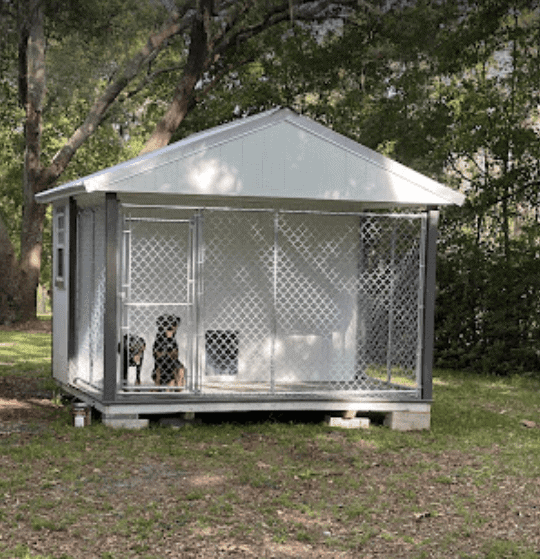 Planted Marvel
@plantedmarvel
I just wanted to say how happy I am with the service and communication of this company. Thank you so much for all your help, and AMAZING customer service. THANK YOU!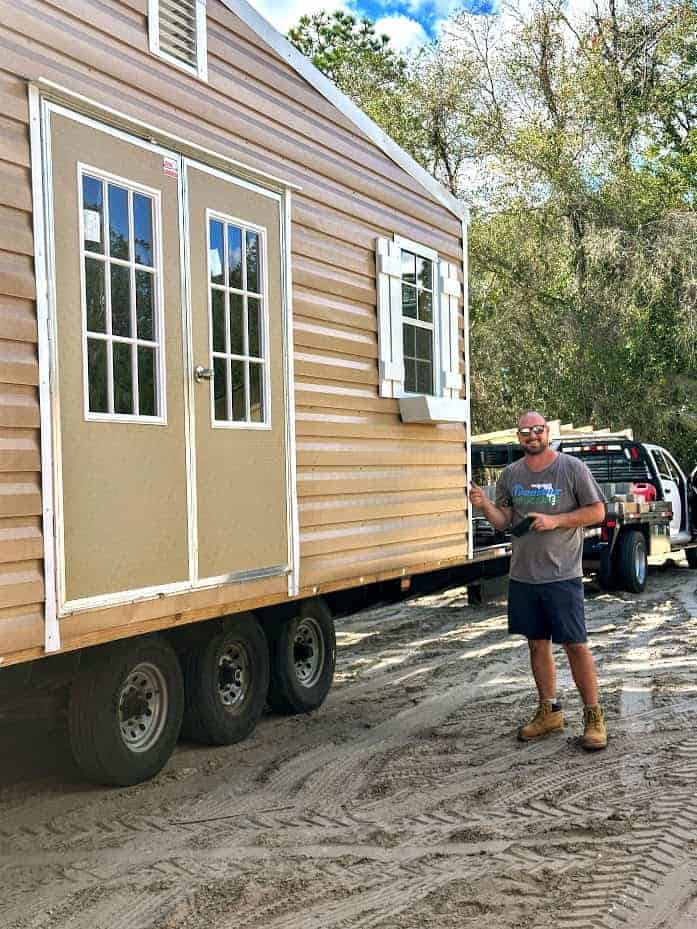 Lisa S.
@lisas.
Everyone here is excellent and does what they can to make sure you are happy! Dennis and Megan are great! And..their delivery guys are FANTASTIC!!! They take their time, make sure everything is top notch and PERFECT! Don't shop anywhere else!! Very Satisfied customers!!!
Items you can customize on the 3D Shed Designer include:
Style
Size
Siding
Roofing
Colors
Doors
Windows
Vents
Electrical
Garage Doors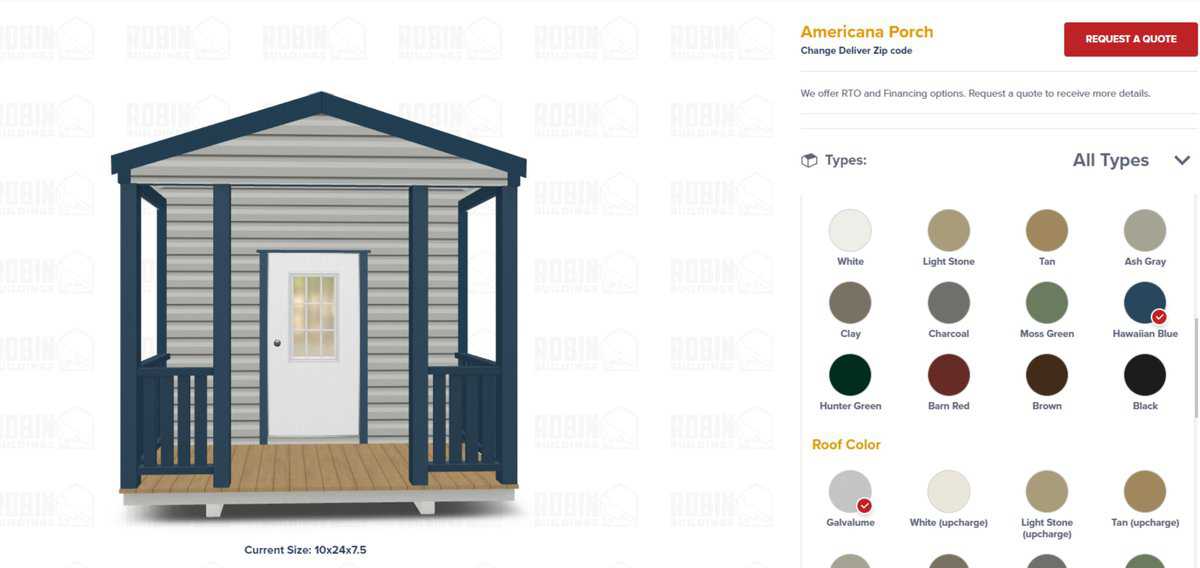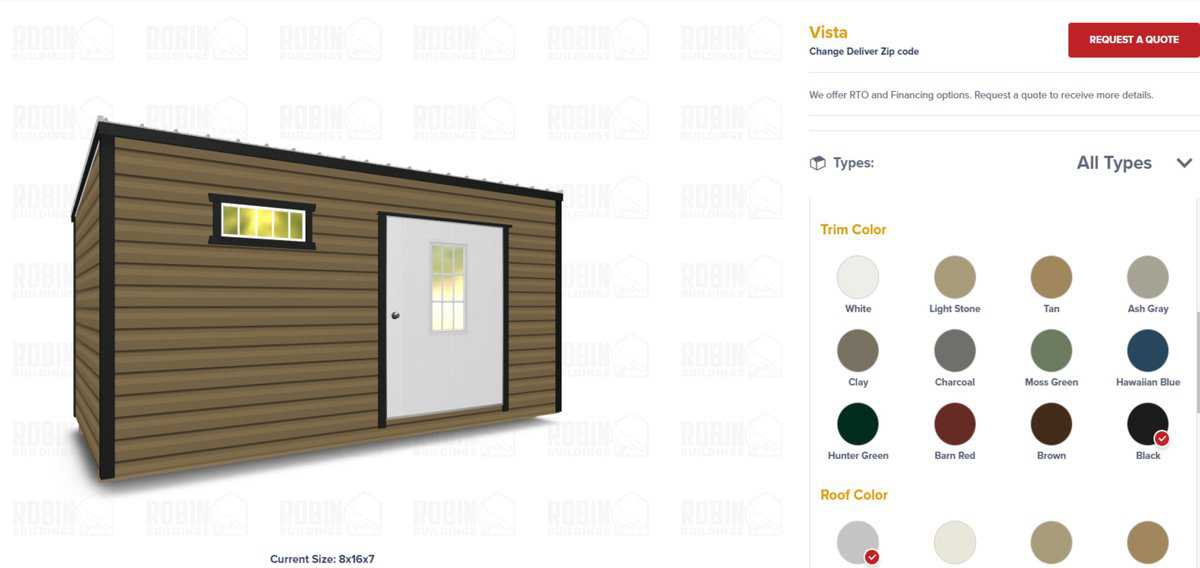 Design Your Americana Shed with our 3D Shed Designer
Using our 3D designer for your Americana shed offers precise customization. This technology allows you to modify every element, including roof, windows, and doors. You can experiment with materials, colors, and styles to get your dream building. The tool provides an accurate visual representation of the end product.
Robin Buildings Quality: The Standard of the Shed Industry
Robin Buildings Storage Sheds include several items as "Standard" in their buildings, including:
3/4″ Pressure Treated Floors
Screwed Down Floors
#1 Southern Yellow Pine Framing
Windows
Electrical Package
4×6 Base Skids
You can customize your Robin Buildings Portable Storage Shed in many ways.  Custom options can include:
Siding

Robin Buildings R-Lap 29 Gauge STEEL siding

LP Smart Siding

LP Smart Lap Siding

Roofing

29 Gauge Steel

Architectural Shingles

Wall Height

6'6″ – Gambrel Models

7′ Wall

7-6″ Wall

8′ Wall

 Colors

Floor/Subfloor

3/4″ Pressure Treated Plywood over 16″ O.C. PT Floor Joists

3/4″ Diamond T&G Flooring over 16″ O.C. PT Floor Joists

Floorless (installed on your concrete or other foundation)

Interior Partition Walls

Interior Doors in Partition Walls

Insulation

Astro Foil Insulation

Spray Foam Insulation (Closed or Open Cell)

Walk Doors

Robin Weather Tight Doors

Mobile Home Doors

Fiberglass Doors

Garage Doors

Coil Doors

Double Weather Tight Doors

Entry Ramps

Lofts

Windows

Vertical or Horizontal Slide
Insulated Windows
Crank Out Awning Windows
Transom Windows

 Custom Frame Outs

A/C Open Frame Out 
Custom Window Frame Out (Customer supplied/installed window)
Custom Door Frame Out (Customer supplied/installed door)

Window Shutters
Window Planter Boxes
Vents
Electrical Options

Breaker Panel
110V outlets
220V outlets
Switches
Lights
Exterior lights
Exterior Outlets

Shelving

12, 24, or 36-inch wide shelving
Customer Determined height
Robin Americana Shed Uses
1. Gardening Haven: 
Transform your Americana Shed into a dedicated gardening sanctuary. Store tools, pots, and supplies while creating a serene space for nurturing plants and seedlings.
2. Home Workshop:
Utilize the spacious interior to set up a fully functional workshop. Whether you're into woodworking, crafting, or DIY projects, the Americana Shed provides the ideal environment.
3. Outdoor Storage Solution:
Safeguard your outdoor equipment, such as lawnmowers, bicycles, and garden furniture, from the elements. The robust construction of the Americana Shed ensures reliable protection year-round.
4. Art Studio or Craft Room:
Inspire creativity by converting the shed into an art studio or craft room. The natural light from multiple windows enhances the ambiance for artistic pursuits.
5. Home Office Space:
Create a tranquil home office away from household distractions. With its New England-style trim, the Americana Shed offers a professional and conducive environment for focused work.
Shed Financing
Robin Sheds provides access to the simplest financing applications available to make the purchase process easy and smooth.
Rent To Own Shed Purchase
Are you renting a storage unit now? Rent To Own is a attractive way to obtain a shed at home without the credit hassles.  
Get personalized payment options in minutes

Pre-Approval DOES NOT affect credit score

Loan amounts up to $250,000
Funded in 1-3 Days
No home equity required
No prepayment penalties
Use now, pay as you go

Guaranteed Approval

Early Payoff Options
NO CREDIT CHECK
Does not go on credit report
Return building with no penalty
Own building after set number of payments
No mini storage fees
30 / 60 / 90 Days Same As Cash
Keep your cash available.  Robin Sheds offers Same as Cash purchase options.  Contact a rep to find out more.
– Credit Card
– Check
-Cash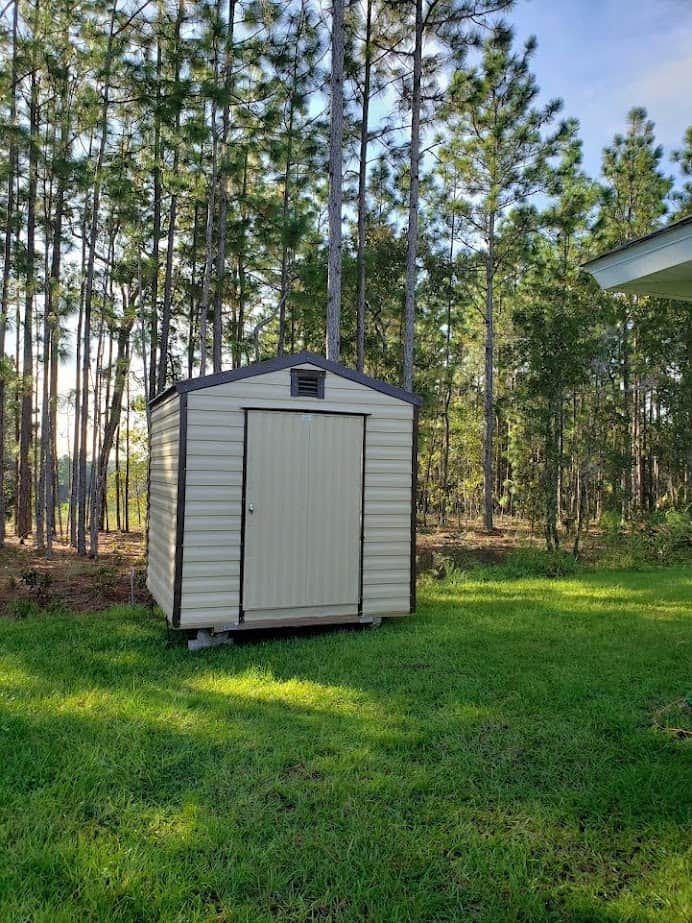 Robin Americana Shed Financing as low as
Robin Americana Shed Rent To Own  as low as

Providing Steel Buildings, RV/Carports, Sheds, Pole Barns, Financing , and Permitting in Florida, including: Crystal River, Homosassa, Inverness, Ocala, Belleview, Dunnellon, Tampa, Fruitland Park, Leesburg, Bushnell, Eustis, Williston, Wildwood, Beverly Hills, Summerfield, Newberry, Gainesville, Lake City, Tallahassee, Lakeland, Lecanto, Pine Ridge, Citrus Springs, Sugarmill Woods, Marion Oaks, Silver Springs, Weirsdale, Tavares, Mt. Dora, Ocala National Forest, Brooksville, Spring Hill, Hudson, New Port Richey, Weeki Wachee, Land O Lakes, Masaryktown, Holiday, San Antonio, Dade City, Zephyrhills, Groveland, Mascotte, Center Hill, Clermont, Lady Lake, Umatilla, Altoona, Astor, Daytona, Sparr, Anthony, Citra, Morriston, Archer, Bronson, Chiefland, Hawthorne, Interlachen, Fort McCoy, Salt Springs, Trenton, Fanning Springs, Old Town, Cross City, High Springs, Alachua, Bell, Jacksonville, Live Oak, Starke, Palatka, Flagler Beach, St. Augustine, Ormond Beach, Deland, Pierson, Sanford, Apopka, Orlando, Kissimmee, St. Cloud, Haines City, Plant City, Winter Haven, Lake Wales, Brandon, Lutz, Wesley Chapel, Riverview, Odessa, Citrus Park, Temple Terrace, Oldsmar, Valrico, Shady Hills, Middleburg, Titusville, Cocoa, North Port, Fort Myers, St. Petersburg, Palm Bay, Coral Springs, Deltona, Palm Coast, Altamonte Springs, Largo, Pinellas Park