Florida Steel Buildings and Metal Garages
Probuilt Structures offers these steel building project services:
Steel Building Design
Project Financing
Steel Building Permitting
Florida Steel Building Engineering
Site Work
Concrete Slab Form & Pour
Steel Building Installation
Electrical Installation
Probuilt Structures specializes in turn key construction of steel buildings in Florida
Our Metal Garage buildings are used for:
garages

barns

storage facilities

workshops

man caves

studios

and more
With sizes up to 50′ wide clearspan, and unlimited lengths, we can build the building you need.
Soft Pull of your Credit

NO Credit Hit

3 Minutes or less

Know your loan potential

Save Time
Download our Steel Building PDF here:
2"x3" Steel Tube Framing- Start your Steel Building out with Superior Strength
Probuilt Structures Steel Buildings are engineered to the Florida Building Codes using the highest quality, cold rolled, hot dipped galvanized, All American Made Steel tubing, assuring you a steel building structure that will withstand the test of time.
The backbone of the steel buildings we provide is the 2"x3" 14 gauge tubular steel used for the framing. This is cold formed steel, providing industry leading strength of 50,000 PSI Yield, and a 55,000 PSI Tensile strength.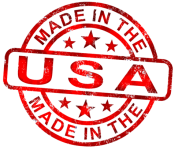 Why does the steel tubing size matter?
Steel tubing is manufactured in various thicknesses and strengths.  To maximize profits, some steel building manufacturers use steel tubing that is a lesser and thinner tubing that appears the same to a consumer, but is an inferior product with far less strength and rigidity, therefore much cheaper to buy.
Why 2″x3″ steel tubing instead of square tubing?
The reason is similar to why you would build a wood frame house with 2x4s instead of 2x2s.
Consider the difference between a 2×4 stud and a 2×2 stud.
When laying flat, the 2×4 will bend along the 2" side, but when standing on edge, the 2×4 is far more rigid and has much more strength and will not bend nearly as much, providing stronger support. The 2×2 stud will bend the same in both directions, with no orientation providing more strength than another. Similarly, manufacturing the interior frame structure using 2"x3" steel tube with the 3" edge as the structural support provides a stronger and more wind resistant frame for the building. Some manufacturers offer a 12 gauge  "upgrade" to their frame tubing in an effort to compete with the 2″x3″ tubing provided in Probuilt Structures buildings.
Probuilt Structures
requires all base rail and
truss inserts to be welded a
full 360 degrees around,
ensuring a stronger connection
with more integrity. On 2"x3"
tubing this equals a full
10" of weld strength.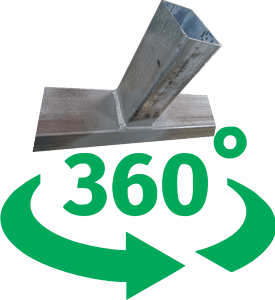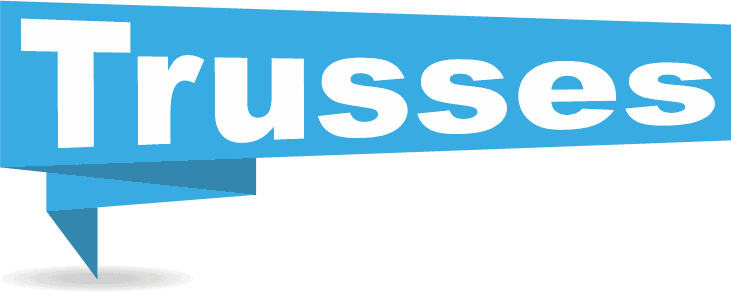 Probuilt Structures
offers buildings up to 50'
wide with clear span
Pre-engineered A-frame webbed
truss designs on buildings over
22' wide. These conventional
triangular designs carry more
load than non-webbed trusses.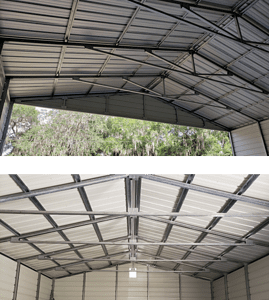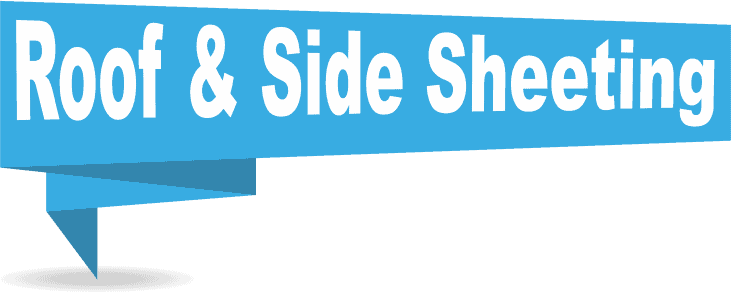 Available in
numerous colors, the
roofing and siding panels
are Florida Product approved
standard 29 gauge or optional
26 gauge sheeting. The sheeting
manufacturer offers a 40 year limited
warranty on the panels, giving
the owner assurance of longevity.


Walk doors are available in standard white solid doors, as well as white Colonial doors with 9-lite windows
Window options include standard non grid windows as well as Colonial windows with grids in the panes. Standard size is 30×30, with other size upgrades available upon request.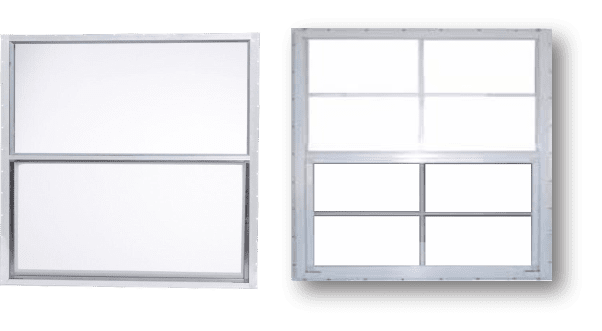 Optional foam closure strips are preformed foam strips that are installed between the trim and the sheet, or between the sheet and the steel frame to limit the gaps, thereby decreasing the light and open spaces in the corners. Although they do not form a completely sealed connection, and are not light or air tight and will still have some smaller gaps, they will fill in the gaps considerably.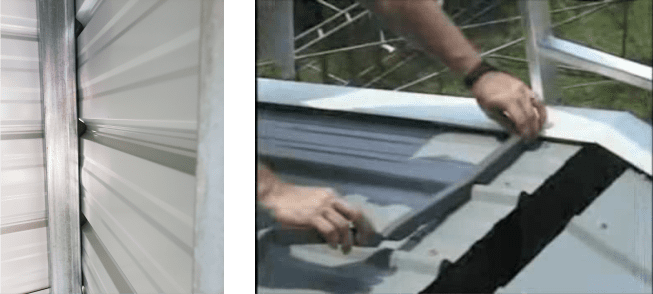 Optional Bubble Foil Insulation is available for roof and side walls on your building, providing a radiant barrier and helping with R-factor to decrease the energy transfer from the metal.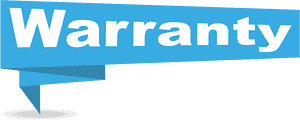 In addition to the warranties provided by the component manufacturers, Probuilt Structures provides a full one year workmanship warranty on the structure. This warranty  covers the structure even if the structure has owner upgrades such as water or electrical installed, or interior framing, as long as the installation of any upgrades does not compromise the structural integrity of the building in any way.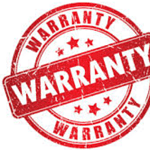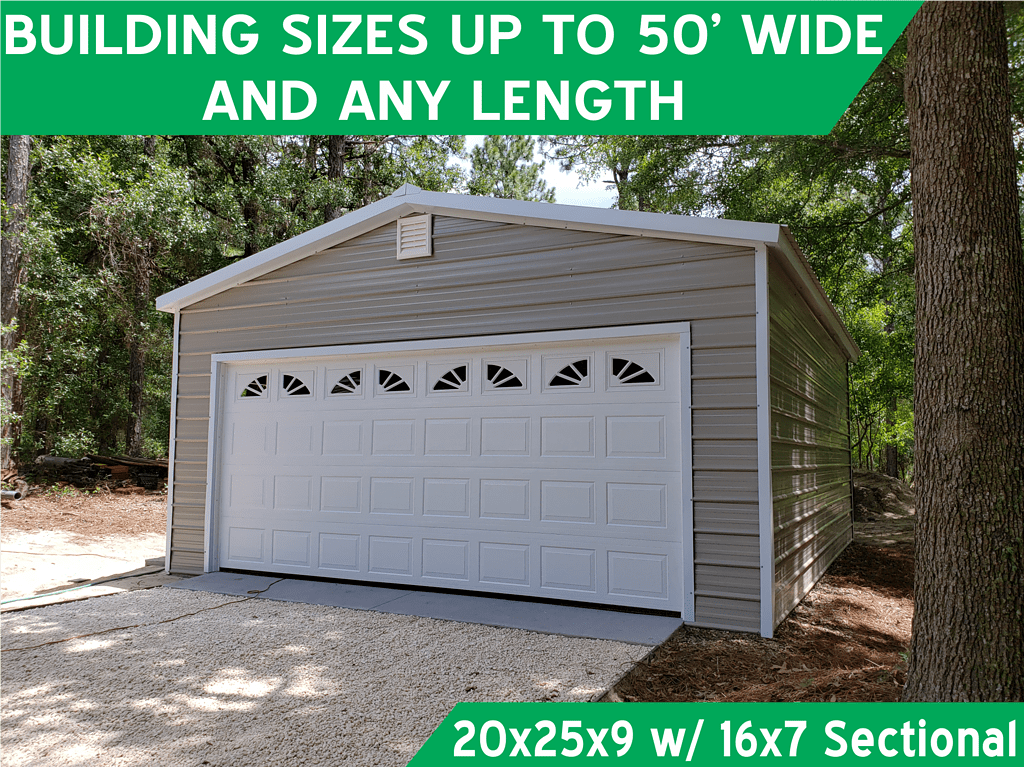 On buildings with Vertical Roofing or Vertical Siding, the 18 gauge hat channel purlins that connect the roofing and siding panels to the frame are superior to the 20 gauge purlins competitors use. They are referred to as "hat " channel because the end profile looks like a hat. Probuilt Structures takes great pride in utilizing the best products available.

Structures with vertical roof designs have a ridge cap as well as boxed eaves on the gable rake and roof eaves, giving the building a more classic finished look.
*Horizontal roof designs do not require a ridge cap, and open carports do not require boxed eaves.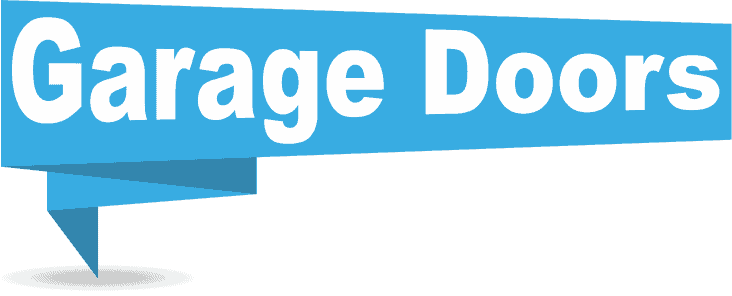 Probuilt Structures provides both Sectional Garage Doors as well as Roll Up Coil Doors for your building in many sizes. Sectional doors come in white with standard raised panels, but can be ordered in other colors and panel designs. Various designs of glass inserts are also available in Sectional Doors, as well as optional garage door openers. Coil doors come corrugated, in standard white. Garage doors can be located on either the gable ends or the side eave walls.

Providing Steel Buildings, RV/Carports, Sheds, Pole Barns, Financing , and Permitting in Florida, including: Crystal River, Homosassa, Inverness, Ocala, Belleview, Dunnellon, Tampa, Fruitland Park, Leesburg, Bushnell, Eustis, Williston, Wildwood, Beverly Hills, Summerfield, Newberry, Gainesville, Lake City, Tallahassee, Lakeland, Lecanto, Pine Ridge, Citrus Springs, Sugarmill Woods, Marion Oaks, Silver Springs, Weirsdale, Tavares, Mt. Dora, Ocala National Forest, Brooksville, Spring Hill, Hudson, New Port Richey, Weeki Wachee, Land O Lakes, Masaryktown, Holiday, San Antonio, Dade City, Zephyrhills, Groveland, Mascotte, Center Hill, Clermont, Lady Lake, Umatilla, Altoona, Astor, Daytona, Sparr, Anthony, Citra, Morriston, Archer, Bronson, Chiefland, Hawthorne, Interlachen, Fort McCoy, Salt Springs, Trenton, Fanning Springs, Old Town, Cross City, High Springs, Alachua, Bell, Jacksonville, Live Oak, Starke, Palatka, Flagler Beach, St. Augustine, Ormond Beach, Deland, Pierson, Sanford, Apopka, Orlando, Kissimmee, St. Cloud, Haines City, Plant City, Winter Haven, Lake Wales, Brandon, Lutz, Wesley Chapel, Riverview, Odessa, Citrus Park, Temple Terrace, Oldsmar, Valrico, Shady Hills, Middleburg, Titusville, Cocoa, North Port, Fort Myers, St. Petersburg, Palm Bay, Coral Springs, Deltona, Palm Coast, Altamonte Springs, Largo, Pinellas Park